Take a 5 minute break, courtesy of SiteSimon
We all know working all day can be tough, so why not take a 5 minute break and check out some stories that are currently trending among SiteSimon users? We've made a quick mini-app that is akin to a "StumbleUpon for trending stories". And do worry, we've made sure to cap it at 5 minutes so you don't get lost for hours in all the amazing content currently circulating on SiteSimon.
Head on over to http://breakforfive.com now and let us know what you think!

And if you want a personalized experience on any of these sites and more, make sure to sign up for SiteSimon for Chrome today!
Introducing "What Would Simon Say #WWSS"
what is internet marketing
seo service provider
local internet marketing
We decided to start a regular series showing what some famous people would want to see within certain sites. We'll be taking suggestions for future posts, but to kick it off, here's what Scott Thompson, Yahoo! CEO, might see:
Perhaps Simon's Skillshare recommendations can help you with your resume Scott!
Meet the new SiteSimon - the best assistant on the web
It's been a long time coming, but we're so excited to announce the pivot and re-launch of SiteSimon, now a Chrome add-on that turns your browser into an intelligent assistant, finding the content you want to see within whatever site you're currently on. So, if you're Snooki, you might see something like this if you're on Yelp:
SiteSimon integrates directly with the browser (currently Chrome, exclusively) via a sliding sidebar, and learns entirely based on your browsing patterns in real time. Until now, your browsing data has been constantly collected and used…for someone else's benefit. At SiteSimon, we feel that your data can and should be used for you. Our service discreetly analyzes your browsing patterns to anticipate what you want, without you ever having to ask. And while having your browsing habits on the web analyzed may sound creepy, SiteSimon is completely secure, 100% private, and automatically turns off on any personal sites.
After launching our first beta, we realized people need more help filtering down the amount of content they come across rather than introducing them to new content around the web (what we used to do). SiteSimon is now the only service on the web that automatically finds what's relevant to you on whatever site you're currently on. For example, if you're on a large content site like NYTimes or ESPN, it'll recommend new articles. If you're on Yelp or Seamless, new restaurants. Best Buy, products. SiteSimon enables your browser to not just take you where you want to go, but actually find what you want and personalize your experience once you get there.
So make sure to check out the new SiteSimon. We're working every day to make it better, and we'd love to hear what you think about how to make SiteSimon the best assistant on the web.
The SiteSimon Team
We are very excited to move into the new Sitesimon office at Projective Space LES!!
People don't want to share their porn - and other things we learned from Sitesimon v1…
There is a lot of awesome content on the web. In fact, probably too much. Take a second and think about how many news articles you see get posted online each day, how many videos you watch, how many blog posts you come across. The average internet user visits over 2,500 pages every month, with more than 50% of their total time online consuming published content. On top of that, more than 27M links are shared every day, equating to about 25% of all social media posts. With an ever-growing amount of content, separating the signal from the noise has become time-consuming work. Sitesimon aims to change this.
We think there should be a better way to find content that you will enjoy. When we first launched, we thought clickstream sharing was the way to go. We enabled our users to passively share what they were looking at online. TheNextWeb called it "cool because you can discover new websites that your friends possibly wouldn't normally share," and the New York Times said it was "fun to spy and is a great way to find content and see what's trending." We thought we could provide a relevant, yet serendipitous discovery experience by increasing the amount of content available from just the people you care about.
We learned a lot from this initial launch. Those who used it were finding cool new content by looking at what others were browsing, confirming our most basic hypothesis that we all benefit from sharing more of what we looking at online. Despite this, we were not delivering the disruptive experience we always envisioned. Sitesimon is supposed to make the process of finding content online easier, faster, and more fun. While viewing a friend's stream did make it possible to find new content and was fun, it was often not easier or faster, particularly for those who do not feel comfortable sharing everything they see.
So after much feedback and reflection, we embarked on a major overhaul of Sitesimon in April. If the initial iteration was something of a time-sink, the new Sitesimon can be described as a "priority inbox" for content. We're using a unique combination of social and science to give you value, regardless of how you share - all you have to do is browse online normally.
Over the next coming weeks, we'll be testing and launching (and then testing again!) pieces of the new Sitesimon. A lot of work has gone into making this happen and we're super excited to show you what's in store. Stay tuned. It's time to find what you've been missing.
Nice little sketches from our designer, Van. Keep an eye out for these somewhere ;). Sweet!
Hipsters (Taken with instagram)
We've been accepted to Entrepreneurs Roundtable Accelerator!!
On Monday, we moved into the ERA office space in Times Square and are super excited for the summer! We share the space with some awesome companies, including: BuzzTable, Centzy, LetGive, Nabfly, numberFire, Parking Panda, Pricing Engine, Public Stuff and WebThriftStore. Check them out!
We're honored to have been accepted into the inaugural class of the accelerator and be able to work alongside such talented people. You can check out an article about the ER Accelerator here.
sitesimon update!

It's been a while since our last post - I guess that happens when you're busy trying to revolutionize the way people share and discover on the web!

Anyways, we wanted to update everyone on some changes that will be happening on sitesimon today as well as some recent additions to the service.

- New Chrome add-on:

We aim to make sharing a seamless part of your browsing experience. With the new Chrome extension, you can add comments and send pages directly to your facebook friends and twitter followers. In fact, sitesimon is the only service (that we know of ;) ) that allows you to send the same message to someone on facebook and another person on twitter simultaneously! Don't worry Firefox users, we'll be rolling out a version for you very soon!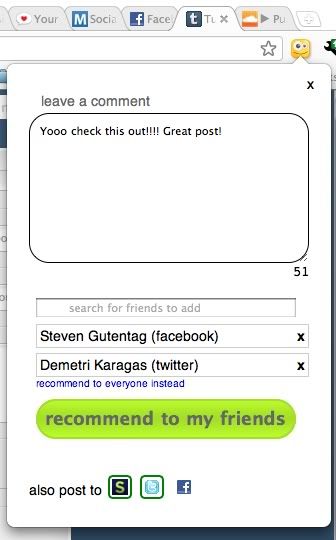 - Follower/following model: We've listened to user feedback and have made the switch to a follower model. This means that unless someone protects their stream, you can follow their stream (just like on Twitter).

Here's how we transitioned existing users' old settings to the new model:
For those sharing with "everyone": stream will be set to normal (unprotected). All friends will be converted to followers. User will also follow all friends.
For those sharing with "just friends": stream will automatically be protected. All friends will be converted to followers. User will also follow all friends.
For those sharing with "just me": stream will automatically be protected. User will follow all existing friends but will have zero followers.
- Privacy settings: We've simplified the privacy settings to make it absolutely clear who can view your stream. You can now have either a public stream, which can be viewed by anyone, or a protected stream, which can only be seen by followers you approve.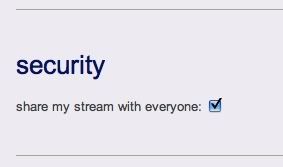 - Social invites: We've upgraded our invite system to work directly with Facebook. You can find and invite your facebook friends straight from the homepage!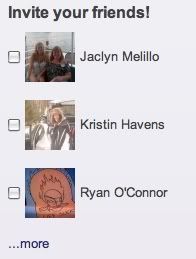 We hope these changes make sitesimon more fun and easy to use. We'd love to hear any feedback you have on how to make sitesimon even better. The changes should appear very soon!


Enjoy!!

<3,
demetri (thegreek), justin (justin), paul (paulrat), and steve (steven)
Hello Chrome!
It's been a while since our last post, but we wanted to release some big news -sitesimon now works on both Chrome and Firefox! We're really excited with how it looks and works, and hope you will be too.
For those new to www.sitesimon.com, sitesimon shares your clickstream, passively and in real-time, to make sharing and discovering things online more easy and fun! We hope you'll enjoy using the service on Chrome and would love to hear your feedback. See below for a cool screenshot on how it looks in the Chrome browser.
Features!
Just got done with a great meeting. Some cool features up our sleeve!! Keep an eye out!
But for now, start sharing on sitesimon.com!